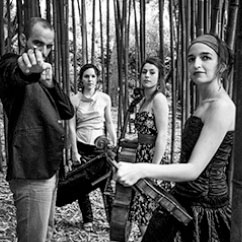 En une décennie, le quatuor Voce s'est fait entendre sur les scènes du monde entier, seul ou aux côtés d'artistes d'exception comme Yuri Bashmet, Gary Hoffman, Nobuko Imai, Bertrand Chamayou, David Kadouch, Juliane Banse pour n'en citer que quelques-uns.
Depuis leurs débuts en 2004, les membres du Quatuor Voce s'attachent à défendre le grand répertoire, une ambition pour laquelle ils sollicitent les conseils de leurs aînés (Quatuor Ysaye, Eberhard Feltz, ou Günter Pichler, violoniste du quatuor Alban Berg). Cette exigence les amène au plus haut niveau : ils sont lauréats des grands Concours Internationaux de Crémone, Genève, Vienne, Bordeaux, Graz, Londres et Reggio Emilia. En 2013, le quatuor est nommé « Rising Stars » par l'European Chamber Hall Organisation (ECHO) et est ainsi invité par les salles européennes les plus prestigieuses : Concertgebouw (Amsterdam), Konzerthaus (Vienne), Philharmonie (Luxembourg), BOZAR (Bruxelles), Konserthuset (Stockholm), MUPA (Budapest), Philharmonie (Cologne), Elbphilharmonie (Hambourg), Konzerthaus (Dortmund), Festspielhaus (Baden Baden), Palau de la Musica (Barcelone), Gulbenkian (Lisbonne), Casa da Musica (Porto), Megaron (Athènes), Town Hall (Birmingham), Barbican (Londres) et Philharmonie (Paris). Le quatuor tourne régulièrement au Japon et s'est notamment produit, entre autres, à Tokyo (Kioi Hall et Oji Hall), Osaka, Hiroshima, Nagasaki et Nagoya.
Ouverts au monde qui les entoure, les Voce créent régulièrement la musique de compositeurs d'aujourd'hui parmi lesquels Bruno Mantovani, Gianvicenzo Cresta, Graziane Finzi, Alexandros Markeas, François Meïmoun, Zad Moultaka… Leur curiosité musicale leur fait aborder tous les genres et expérimenter différentes formes de spectacle : ils prêtent leur voix à des chefs-d'oeuvre du cinéma muet, de F.W. Murnau à Buster Keaton, et partagent leur univers avec des personnalités aussi diverses que le musicologue Bernard Fournier, le chanteur et guitariste -M-, la chanteuse canadienne Kyrie Kristmanson et le chorégraphe Thomas Lebrun. Ils préparent pour la saison à venir un projet ambitieux mariant les musiques traditionnelles à des œuvres classiques et contemporaines inspirées de musiques populaires.
Leurs enregistrements, consacrés à Schubert, Beethoven et Mozart sont salués et recommandés par la presse internationale parmi lesquels The Strad, Télérama, Neue Zürcher Zeitung, Diapason, Strings and Bow et Klassieke Zaken. Parmi leurs dernières parutions sous le label ALPHA Classics, on compte un recueil des quatuors avec flûte de Mozart (Juliette Hurel) et un disque de quintettes à cordes de Brahms et de Mozart, enregistrés avec l'altiste Lise Berthaud (2015). En 2017, un CD consacré à la musique de l'Est de l'Europe présentera des quatuors de Leoš Janáček, Erwin Schulhoff et Béla Bartók.
Parmi les évènements marquants de l'année 2016, le quatuor s'est produit au Théâtre de la Fenice à Venise, au Teatro Colón de Bogotá et au Concertgebouw d'Amsterdam.
Le Quatuor Voce a bénéficié de nombreux soutiens depuis sa création : ProQuartet CEMC, le Théâtre de la Cité Internationale, la Fondation Banque Populaire, l'Académie Musicale de Villecroze, l'Institut Albeniz, la Fondation Charles Oulmont, la Philharmonie de Paris et est actuellement en résidence à l'Ecole Normale Supérieure de la rue d'Ulm. Le quatuor est également partenaire de Monceau Assurances et reçoit régulièrement le soutien de la Spedidam.